Teleworking Tools
Work From Home. A Coffee Shop. A Hotel. Anywhere!
POPP's Internet Phone System offers many features to enable employees to make and take calls for the business – using business phone numbers – wherever they may need to work.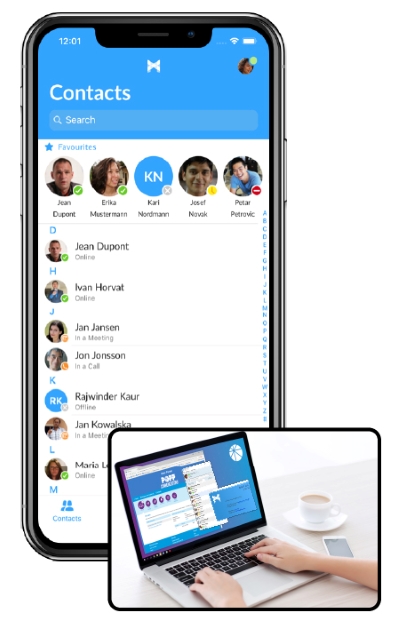 Key Tools & Features
Our cloud-hosted Internet Phone System offers virtual phone apps for your smartphone (Apple and Android) and your computer (Windows and Mac). Make and take calls using your business phone number wherever you have an internet connection, and use PBX features like hold, transfer, and conference just like you would with an office desk phone.
Make Calls Showing Your Business Phone Number - From Any Phone
Log into User Portal and make outbound calls using any convenient phone (cell phone, home phone, etc.), while showing callers your recognizable business number on Caller ID. Keep your personal phone number private, and decrease the odds of appearing as unfamiliar/spam so your customers are more likely to answer.
Sometimes you simply need to forward your business number. An Enhanced User can easily forward their line via User Portal, and your designated administrator can forward any business number via Admin Portal. Both portals are available online, anytime, so there's no need to make a special trip to the office just to forward your calls.
Call Recording to Measure Quality
Our telework phone apps make a great pairing with our always-on call recording service, so that even while teleworking, all calls are recorded for quality and training purposes. Recordings can be reviewed by the user to self-improve, and by management to help coach reps.
Call Analytics to Measure Quantity
Our built-in Call Analytics reporting logs all calls – even calls completed on one of our telework apps for smartphones and computers. Users are accountable for the number of calls they make, even while teleworking.
Teleworking Advantages
Teleworking voice apps are a key part of any Business Continuity plan
Increase employee productivity year-round, and maintain productivity in times of crisis
Increase employee satisfaction and retention through added flexibility
Increase customer retention by keeping business calls on business phone numbers
Improve your service reputation by expanding your ability to connect with your customers, in any situation
Connect with a POPP telework expert to learn more!