Microsoft Metaswitch Cloud-Hosted Phone System and Office Data Network / LAN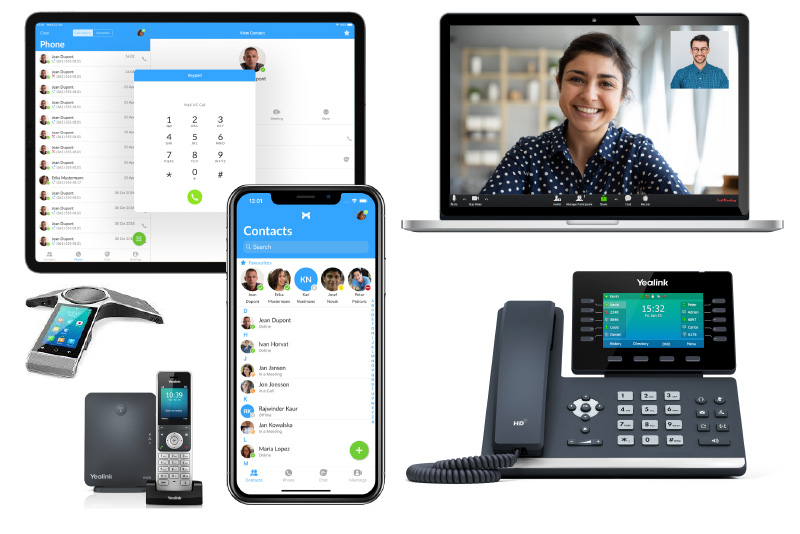 • We are a Microsoft PBX platform host. We have owned and operated our Microsoft Metaswitch since 2006.
• Cloud technology has made the formerly unaffordable, powerful big business applications (call recording, CRM integration, call center) very affordable.
• The capital costs to implement our modern Work From Anywhere phone system are greatly reduced.
• Enjoy predictable operating costs, and easily scale the system to fit your employee population.
• No more phone system servers or software upgrades to buy, operate, and keep up-to-date.
• Simple web-based management and administration
• Teleworker mobility and support of Bring Your Own Device practices
Unlimited Helpdesk Administration Support
Business Communications Consultation
User Administration Updates
System Configuration Updates
Auto Attendant Greeting Recordings
Office Data Network Support
Free Replacement of Leased IP Phones
Admin Portal
User Portal
Main Number Call Manager
General Voicemail Box
Easy Auto Attendant
Hunt Groups
Music on Hold
Call Analytics/Reporting
Short Codes / System Speed Dials
Emergency 911 Call Notifications
Direct Inward Dial Number
Unlimited Local Calling
Complimentary Long Distance
Complimentary Teleconferencing
Cloud VoIP Connector for Microsoft Teams
Call Recording – On Demand (Device Dependent)
User Web Portal for Customized User Experience
Analytics / Call Reports
Voicemail
Voicemail-to-Email
Caller ID Name & Number
Call Waiting w/ Caller ID
Call Transfer
3-Way Call
Call Hold
Call Forward
Call Park
Call Pick Up
Speakerphone
Mute
Do Not Disturb
Message Waiting Indicator
Speed Dial
Call History (Missed, Dialed, Received)
Paging
Employee Directory
Fax-to-Email (Inbound Only)
Unified Communications (UC) Features:
UC App for Mobile Devices (Android/iOS)
UC App for Computers (PC/Mac)
Install UC App on up to 4 Devices
UC Apps Twin with a Desk Phone
Move Calls Between Devices (Call Pull, Call Switch)
Instant Messaging / Chat with Teammates
SMS / Text Messaging using Business Phone Number
Employee Directory
Contacts Sync with Outlook
Integration with SalesForce, SugarCRM, MS Outlook
Realtime Presence of Teammates (Idle, In Call, DND, In Meeting)
Switch VoIP Calls to Cellular (On devices with cellular capabilities)
Host video conference meetings from our UC app, powered by Zoom®
Two plans allow up to 10 or up to 100 participants
Call Recording (Always-On)
Call recording begins automatically and calls are saved into a searchable, secure database in the cloud
Includes 10 GB of cloud storage per recorded user – approximately 1400 hours of calls!
Computer Telephony / CRM Integration
Choose from 2 Options:
Express: Enables Express Dialer to save time dialing outbound calls, and enables inbound caller recognition pop-ups (aka screen pops) in MS Outlook Contacts, Google Contacts, or Lotus Notes.
CRM: Enables Express functionality (above), plus inbound caller recognition pop-ups (aka screen pops) in over 100 supported CRMs.
Choose from 3 Options:
Basic Agent: Enables call center with basic agent dashboard and collection of statistics for reporting.
Premium Agent: Enables call center with basic agent capabilities (above), plus Configurable Agent States, Wrap-Up Timers, Call Categories, Queue Status Announcements for callers (approx. wait time or number of callers ahead), and use of Monitor/Whisper/Barge-in by Call Center Supervisor(s).
Supervisor (1 or more required): View supervisor dashboard and reports.
Additional Local Phone Numbers
Anywhere Phone Numbers – From Other Area Codes
Toll Free Numbers
Encrypted Voice for Added Security
We offer a variety of business-grade IP phones from Yealink® and Poly® (formerly Polycom). You may lease or purchase phones from POPP. If you already own the phone models below, we may be able to reuse them with our service. Contact us for details.
Any IP phone below may be used with any User type above, except for the Softphone User and Office Device Connection which do not support an IP desk phone.
System Implementation & Operating Process
At POPP, we understand that small businesses appreciate full-service and the best value. Avoid the frustration and chaos of a self-service phone system installation and enjoy the added-value of a low-priced installation by experienced professionals. Your business communications are too important to consider any other way.
Our phone system installation goes far beyond just plugging in phones.
We help throughout the entire process, including:
We consult with you to determine the right configuration of hardware, software and features to fit your unique needs.
Our project managers are your single point of contact and cover every detail, from designing your call flows to porting your phone numbers.
You get free access to our team of specialists to assist with consulting, configuration changes, or adding and removing users, phones, and features.
Personalized Service - Live & Local
You get access to our local team of helpline specialists who can troubleshoot issues remotely or dispatch a technician to your location.
Office Data Network Upgrade
If your network isn't ready for VoIP, you're not going to be happy with any VoIP system.
When you choose our full-service installation, we go the extra mile to ensure your office network is ready to support VoIP and is capable of providing high-quality phone calls.
We install a SonicWALL firewall as a VoIP Management Device to create a VLAN with Quality of Service (QoS).  This means you'll have added security, and your phone calls have priority over any other data moving over your network to reduce the chances of poor audio or dropped calls. If you don't have a firewall, or if it is outdated, our firewall will provide a layer of modern security for your business data.
Our managed Power over Ethernet Switches power your IP phones and devices and keep them connected at up to gigabit passthrough speeds.
Have no fear – we have a No Pester Policy, and we don't sell your information.
You're one step away from free, insightful help with your office technology needs. You'll be in touch with a local, experienced professional who will answer your questions, and there's never any obligation!
Don't want to email?

Call us at 763-797-7900!